Paparoa Great Walk: Get ready, get set, go!
With the opening of the Paparoa Track fast approaching and as our bookings are coming in thick and fast for transport, car parking and accommodation, we thought it would be useful to write about how to prepare for walking the Paparoa Track! More blog posts will come focusing on preparing physically!
If this will be your first Great Walk, or for those lucky ones, number 10, having good planning is very important for a successful walk. Paparoa Track Services staff have walked four of the Great Walks and have put together this guide for you. Our guide is split into two categories; First – off the track planning; and second – on the track planning.
Off track planning
Hut Tickets
Firstly and before booking anything else, you have to book your nights on the Paparoa Track. All three huts, Ces Clark, Moonlight and Pororari can all be booked here Once you have locked in your dates you can start to book the rest!
Car park
We find having off the track services organised always makes for a more enjoyable walk. It allows you to enjoy the walk without thinking of the unplanned chaos which might eventuate once you finish. For the Paparoa Track there are three main things to think about – where will you leave your car, how will you get to the track start and where will you stay before and after.
Department of Conservation encourages you to start your Great Walk in Blackball and finish in Punakaiki. We too agree this is a great direction, as you start in the mountains and finish in the subtropical beach paradise of Punakaiki.
Having your car at the end of the walk is always a bonus, you have all your clean clothes and other goodies waiting for you, and don't have to think about getting back to your car when you're exhausted at the end of the track. The Punakaiki Beach Camp has secure car parking for track users right opposite the end of the track.
Transport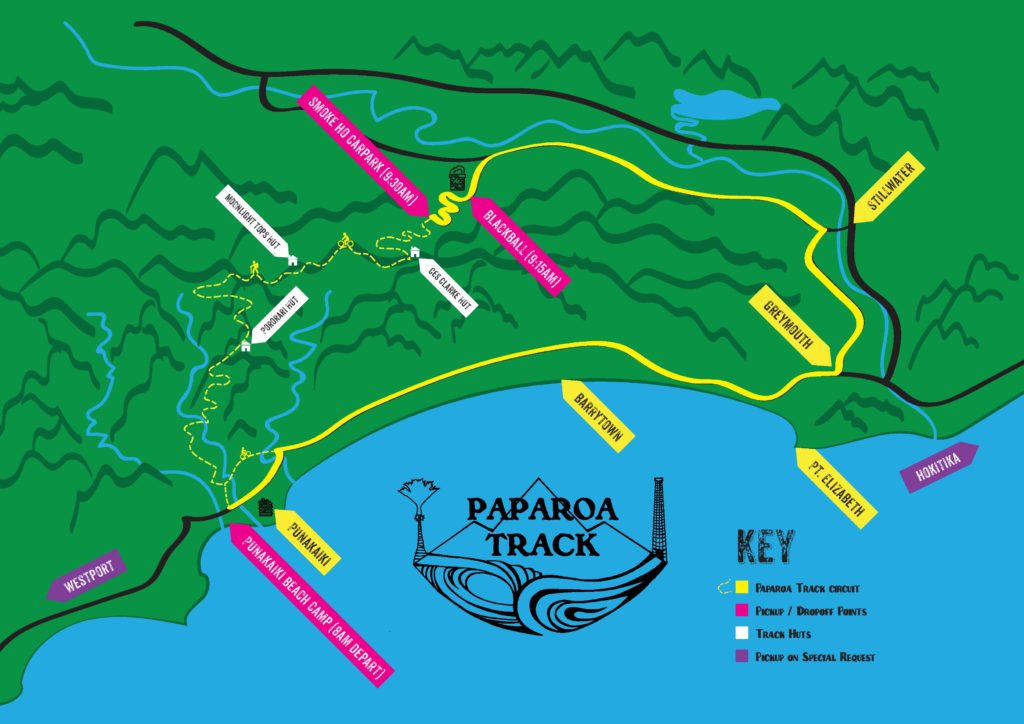 Only three of the 10 great walks are loops, the Tongariro Northern Circuit, Lake Waikaremoana and the Kepler Track. The other seven need some sort of transport to the start or from the end of the walk. Unlike the Heaphy Track (a six hour connection) the Paparoa Track end is only 1 hour 15 minutes to the start.
Paparoa Track Services offers a service every day to the start of the Paparoa Track, leaving Punakaiki Beach Camp at 8am. We can also pick up in Greymouth and Blackball. This way your car is safe in our parking and ready for you upon finishing the track! For those starting from the Punakaiki end we are also happy to have your car ready for you at the Smoke-ho carpark.
Accommodation
Unless living close by, it's helpful to travel the day before starting your Great Walk. This means you can get on the track early, so you don't have to rush to the Moonlight Tops (6 – 8 hours walking) or Ces Clark Huts (3 – 4 hrs). If you have left your car at the Punakaiki Beach Camp, it is the obvious place to get a good night's rest before starting your trip.
The Punakaiki Beach Camp has a full range of accommodation options, from campsites on the beach, riverside cabins and luxury holiday houses. See accommodation options. Beach Camp staff can offer assistance to Paparoa Track hikers and bikers, and if wanting to explore Punakaiki more they have plenty of great advice!
On track planning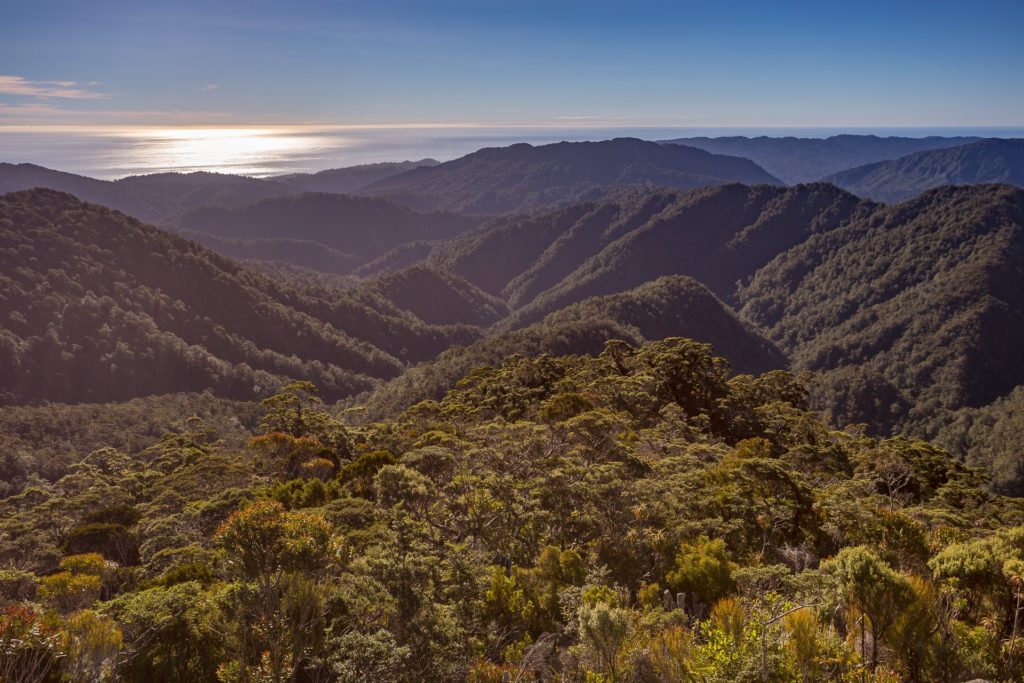 Like every multi-day hike, we cannot overstate how important it is to have the right equipment! The Department of Conservation have fantastic guidelines on what to take when undertaking a Great Walk and we have popped their advice below but don't forget to check out their fantastic online resources. You can check out more here
Personal equipment
• Backpack (40–60 litre size for multi-day hiking)
• Waterproof/plastic pack liner
• Sleeping bag (3–4 season)
• First aid kit (including insect repellent, sunscreen, blisterkit, personal medication e.g. antihistamines for allergies)
• Survival kit (survival blanket, whistle, paper, pencil, high energy snack food)
• Safety equipment relevant to the track and time of year (e.g. map, compass)
• Drink bottle (1-2 litre capacity)
• Eating and cooking utensils (knife, fork, spoon, plate, cup, pot/pan/billy, cleaning kit, tea towel)
• Matches or lighter in waterproof container
• Toiletries
• Torch/flashlight and spare batteries
• Rubbish bag
• Booking confirmation letter and ID
• Visit the Kiwi way – never miss an opportunity to use a loo and be prepared with a back-up toilet option
Clothing
• For multi-day walking you'll need at least one set of clothes to walk in and another dry set to change into at night. Walking boots or firm footwear (should be comfortable and well broken in)
• Socks (wool or polypropylene)
• Shorts (quick dry material)
• Shirt (wool or polypropylene)
• Under layers, top and bottom (wool or polypropylene)
• Mid-layers (wool or polar fleece)
• Raincoat (waterproof, windproof with hood)
• Overtrousers (wind and waterproof)
• Warm hat and gloves
• Sunhat and sunglasses
• Extra socks, underwear, shirt/lightweight jersey
Food
You can't buy food on the track. Bring food that is lightweight, fast cooking and high in energy value. For example:
Breakfast: Cereal/porridge/oats, firm bread, honey or other spreads
Lunch: Cracker biscuits, cheese, salami, jam/jelly, fruit
Dinner: Instant soup, pasta or rice, dried vegetables or fruit, cheese or dehydrated (freeze-dried) meals.
You'll also need water, snacks, biscuits, muesli bars, tea or coffee, powdered fruit drinks and emergency food in case of any delays on the track.
We hope this blog post gives you some ideas about preparing for the Paparoa Track. If you have any questions, go to the Contact menu and get in touch!
Jed and the team
Paparoa Track Services