We were among the first to walk Te Ara o Paparoa at the beginning of December 2019 and it was an exceptional experience, all the more so given that plans had to be altered due to flooding causing a slip; logistics were smoothly taken care of by Punakaiki Beach Camp.
Transport and accommodation were spot-on – we were Jed's first passengers in the Paparoa Track van which delivered us to the start at Smoke-ho and picked us up at Barrytown when we descended the Croesus Track. And the accommodation was well situated for accessing the track at the Punakaiki end and, indeed, for revisiting Punakaiki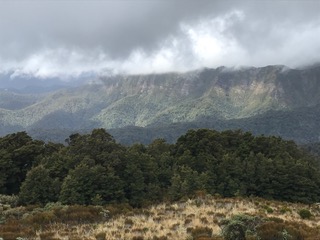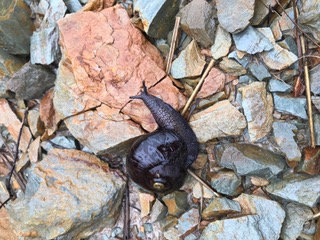 Te Ara o Paparoa is Aotearoa New Zealand's 10th Great Walk and the first to be purpose-built as a shared walking and cycling track. One wonders if tramping and biking are entirely compatible continuously on the same trail at the same time and how this will impact availability at the huts.
We stayed the first night at the historic Ces Clark Hut and the second at the brand new Te Whare Atarau Moonlight Tops Hut, a swish hut with USB ports, plenty of bike parking and glorious views out to the 5km long Pike Escarpment and over to the Pororari Hut in the distance. Among the highlights walking up from Ces Clark to Moonlight Tops were the (live!) carnivorous giant snails, our native Powelliphanta, and the dracophyllum trees
On Day 3 we descended via the lesser-used Croesus Track to Barrytown as the slip meant we were prevented from walking through to Pororari Hut. The pub made for a fabulous rendez-vous point with Jed who picked us up in his white van to return us to our accommodation in Punakaiki.
I had chosen there originally as I liked the idea of coming off the track at the end and having your hot shower, food & facilities right there. As it turned out, it worked really well too for us to explore the track from that end, which we did on Day 4, up the beautiful flooded Pororari River gorge and back out the cycling route to Punakaiki and then back to the beach camp. All in all, a lot of fun!